Corrugated clip for corrugated roofs
The corrugated clip for corrugated roofs is quick and easy to use; installation only involves a few parts. Next for corrugated roofs is a very quick mounting system.
It has been made from high-quality aluminium and stainless steel and comes with a 20-year product warranty.

Installation made easy
An alternative to hanger bolts? Try BluBase Corrugated Clips. They use the strength of the corrugated sheet and the screw already present. The result is an even more stable structure and better weight distribution. Installation is also super easy.
Assembly manuals
In addition to our assembly videos, we have also produced assembly manuals in which we show, step by step, how to install the mounting system for corrugated roofs. If you have any further questions after reading the manual, please contact us. We're here to help!
Fitting hanger bolts
Are you looking for a different system that uses hanger bolts? Have a look at our Roboost mounting system for corrugated roofs.
Strong and smart mounting materials for solar panels
The Next mounting materials for solar panels on corrugated roofs are quick and easy to install. At the same time, we have thought carefully about how to make our products user-friendly, to make sure they can be easily mounted.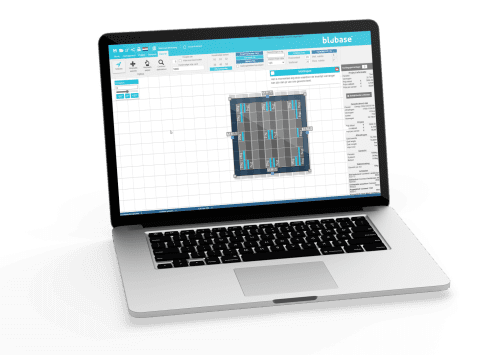 Always a quick calculation!
With the BluBase calculator, you can calculate your projects quickly and easily. We offer one calculator for all our products. This enables you to calculate projects for both pitched and flat roofs effortlessly. Do you want to order the materials instantly? No problem!
A calculator for all your projects
Reliable
A calculation in four steps
Includes list of materials and ballast plan
Quick and easy assembly
Minimal number of components
Made from reliable, hard-wearing Magnelis steel
A solution for every roof
Suitable for Landscape and Portrait installations
20-year warranty